Holsworthy Leisure Centre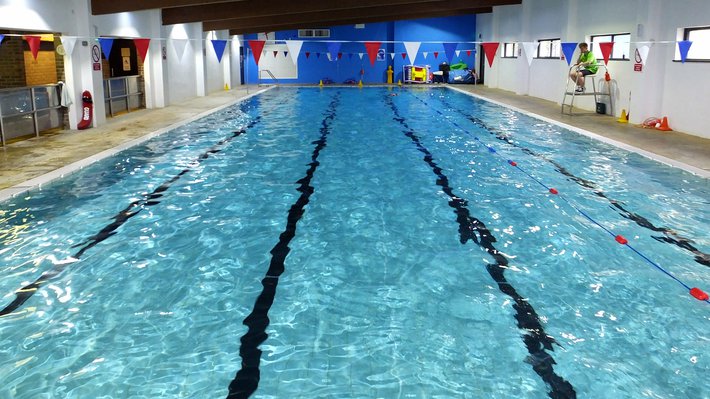 Latest News - Holsworthy Leisure Centre to open on the 1st June
Holsworthy Leisure Centre is getting ready to reopen on the 1st June starting with the Gym and sports hall with a small group exercise programme returning on 7th June.
We aim to reopen the pool on the 21st June, and restart swim lessons on the 1st July. We have some important maintenance work being completed in the pool which starts on the 1st June and will take around 2 weeks to complete, so we are not able to open the pool any earlier.
For any sports clubs or groups that want to book or rebook the sports hall – please can you email me on mbaxter@1610.org.uk
We have been working hard behind the scenes to ensure our Centres are safe, fresh and in line with Government guidelines and advice from Swim England, UK Active and Public Health England.
Unfreezing your membership
As you paid by Direct Debit your membership payments will automatically restart – this will take place from 1st June 2021 and will remain on your previous direct debit collection date. Customers may have their 1st payment adjusted to compensate for any money owed following the lockdown.
If you're not ready to come back
We understand if you are not ready to return just yet or want to wait until the pool reopens, and will therefore continue to offer members the option to freeze your membership up until the 21st June, when it is proposed that all Covid restrictions will be lifted and the pool will have reopened. After this period our normal terms and conditions around freezing memberships will apply.
You can still use the facility on a pay as you go basis if you do decide to use the facility on a pay and go basis.
If you want to freeze your membership, please email your request at info@1610.org.uk by 25th May, this will allow us enough time to administer your request before your first direct debit is due to be taken. Please note that payments will begin collecting from the month following the end of your freeze.
If you had an annual membership, this will be extended for the time that we have been closed to ensure that you receive your full 12-month membership.
Safety Measures
We are confident in our ability to minimise the risk of infection to keep you and our staff safe. We have implemented enhanced cleaning procedures and social distancing measures in all areas of our centres to create a safe environment for you to visit. These include:
*Sanitising stations installed at key locations around the centre
*Implementation of a customer travel and queue management systems to aid safe social distancing
*Signage displayed to assist and direct you safely
*Enhanced cleaning procedures throughout the centre in line with UK Active and Public Health England guidance
*Comprehensive training for staff on new operating procedures ensuring member and staff safety is always a priority
*Amended gym and pool capacities and class timetables to enable safe social distancing
*Access to the gym and group exercise will be provided in 45 minute slots initially to maintain safe capacities
*Plastic shield installation within the gym to enable safe social distancing
*All gym, classes, and swim sessions must be pre-booked in advance via the 1610 app, website or by calling 01409 335767 to minimise face to face interaction. To maintain safe capacities walk-ins will not be allowed. You will be able to make a booking 3 days prior to opening.
*Please arrive 5 minutes before your pre booked session – a wait and queue system will be in place
*Turn up bather ready in swimming costume or trunks with flip flops or sliders and dressing gown, the changing rooms and showers will be out of use
*As we do not have a large enough area, we cannot allow spectating for swimming
*Follow the social distance and one-way system signs
*Do not attend if you feel unwell or are showing COVID-19 symptoms
*Check your contact details are up to date on our system, to enable track and trace
*Enjoy it and let us know if there is something not quite right. We are all new to this and we are in it together!
Cancellations
If you sent in a cancellation request while we were closed but have now changed your mind, we would love to welcome you back. Again please email us at info@1610.org.uk to notify us of your wish to re-join. Please note a small fee of £10 will apply for anyone re-joining within 12 months.
We want you to enjoy your session back at Holsworthy. Please do let us know if there is something not quite right! We are all new to this and we are in it together!
If you have any questions, please visit our Reopening Page. We want to make your return to us as easy as possible – this page outlines our reopening plans and a list of FAQ's.
On demand classes
Our studios will be closed but we can still support you with our On Demand Class app. Access an amazing range of workouts and classes on your device from your own home. Train whenever, wherever you like with a no-commitment monthly subscription of just £9.99, giving you access to a huge range of sessions. Click here for details and online sign up.
Please keep an eye on this page and our Facebook page for updates.
As a not for profit charitable trust, we would like to thank each and every one of you for your loyal support throughout these uncertain times and we look forward to welcoming you back again in soon. Keep safe.
This centre offers:
Swimming Pool

Fitness Studio

Sports Hall
Location and Contact Details
Opening Times
Monday:

Tuesday:

Wednesday:

Saturday:
Holsworthy Leisure Centre - News & Updates
Successful first week as Torridge Pool and gym reopens to the public on 12 April

Read More

1610 launches new digital platform to deliver group exercise classes and workouts

Read More

1610 inspires South West children to learn to swim in World Book Day themed sessions

Read More