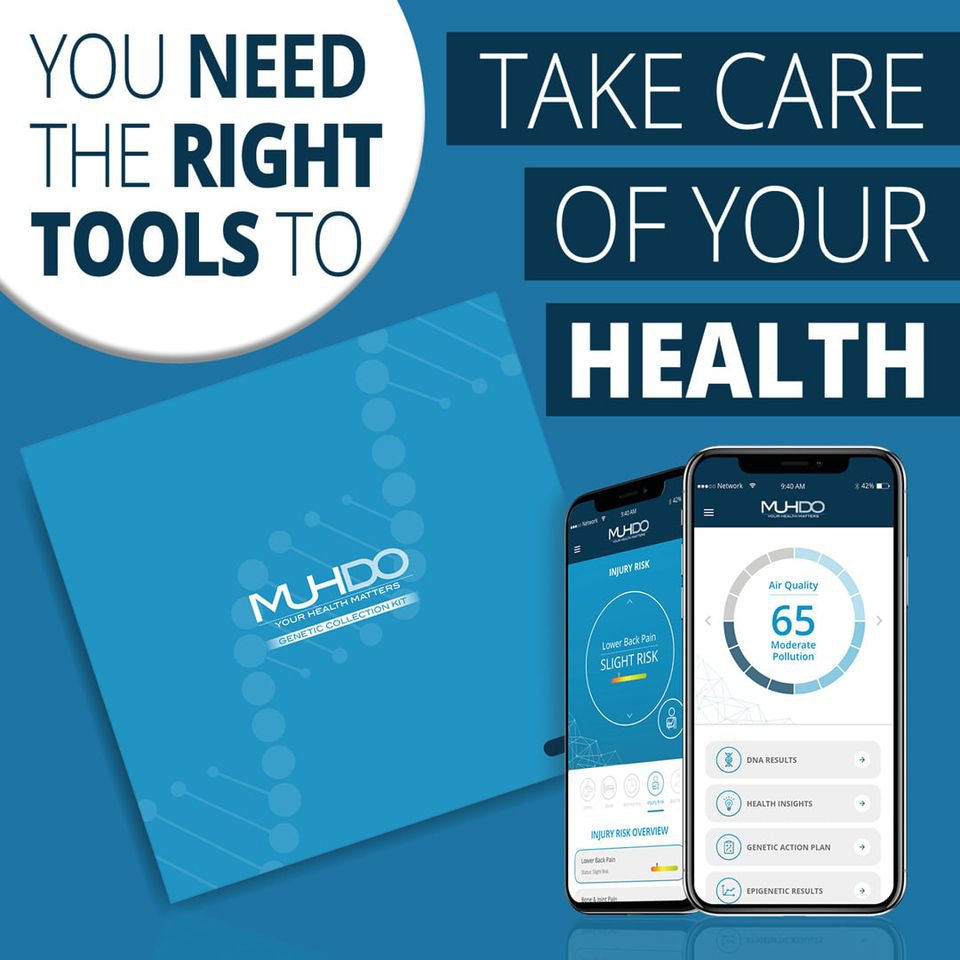 1610 have partnered up with Muhdo, a genetic profiling company, to exclusively offer our customers the most conclusive set of DNA health results available.
Unlock the secrets of your DNA with a saliva sample and benefit from 300+ reports. Understand how your body absorbs nutrients, reacts to supplements and responds to exercise. THe reports will show you how to boost your immunity, reduce stress, help you sleep better and understand what vitamins and minerals your body really needs. Improve your health and reach your goals the smart way.
Muhdo measure 1,000 bio-markers and provide 300+ DNA health reports, which is more than any other DNA test. Their app dynamically changes depending on your health goal and has 10 additional health aspects that include stress, sleep, anti-ageing, eye health, heart health, injury prevention, mental health and gut health.
With a Muhdo DNA profile you can benefit from:
Better Nutrition - Understanding if you are predisposed to certain nutritional deficiencies (vitamin & minerals) will help you tweak your diet. Helping you to feel healthier and improve your energy and recovery.
Improved Workouts - achieve your health objectives more efficiently and effectively with a genetic knowledge of how your body works. Designing better workouts and general exercise.
Aiding Physical and Mental Wellbeing – understanding specifically what works for you at a genetic level helps with stress, anxiety, depression, sleep and rest.
Improved Mental Focus – better decision making, concentration, memory and cognitive function.
By purchasing this through 1610, you also receive two consultation sessions with a DNA coach and personalised programme based on your results and goals.
This partnership enables us at 1610 to understand our customers at a genetic level, and means we can support you by giving you the correct nutrition, exercise and recovery advice aligned to your individual DNA.
How it happens
Week 1

To purchase simply pop into your local 1610 centre to receive your kit straight away. At the time of the sale, you will have your consultation booking made for approximately 4 weeks later.
Follow the instructions given and provide a saliva sample in the test tube provided.
Download the MUHDO App and register the kit number on your test tube.
Send the sample off in the post using the sealed package to our partner Genetic Profiling company MUHDO for genetic profile analysis.

Week 2

You will be given an appointment with our DNA coach for approximately one week after your kit purchase. During this appointment, your general health and fitness will be recorded using a number of tests. We will set aside some time to explain how to download and record your current activity levels and familiarise yourself with the gym so you can train and record your activity levels while you await your results. We will provide a basic program based on your goals during this time.

Week 3

The results will take approximately 3 - 4 weeks to come back. Your DNA coach will be in contact with you before this time so they can log in to view your results, analyse the data so they can design a specific fitness programme, and offer dietary advice personalised to your DNA results and goals.
After 6 weeks you may book in for a review with your instructor. Your health and fitness will then be measured against your start point, giving you the opportunity to compare your results and discuss your progress.
Simply pop into your local 1610 centre today to receive your kit straight away. If you have any questions please don't hesitate to get in touch by contacting your local centre or email us at info@1610.org.uk.
Locations
Please note this new product is available at Trinity Sports & Leisure, Dorchester Sports Centre and 1610 Chard.
Age limit
18+ years only.
Price
£99.00 Members / £120.00 Non-Members
Disclaimer
The information given is for informative use only and is not intended to be used for medical diagnosis or treatment. 1610 do not provide medical advice and cannot totally guarantee a precise outcome as a result of you taking any course of advised training, diet or supplement regime.
Please pursue the advice of your GP, Doctor, or/and Physician with any questions you may have regarding your physical or/and psychological health and wellbeing. Prior to making any variations to your training, diet or lifestyle practices, you must first consult a qualified health care provider, GP or relevant Doctor.
Your 1610 instructor will need to have access to your MUHDO account in order to analyse your results and help design your programme
At no time will any of your DNA information be shared with any other person or provider without your permission.