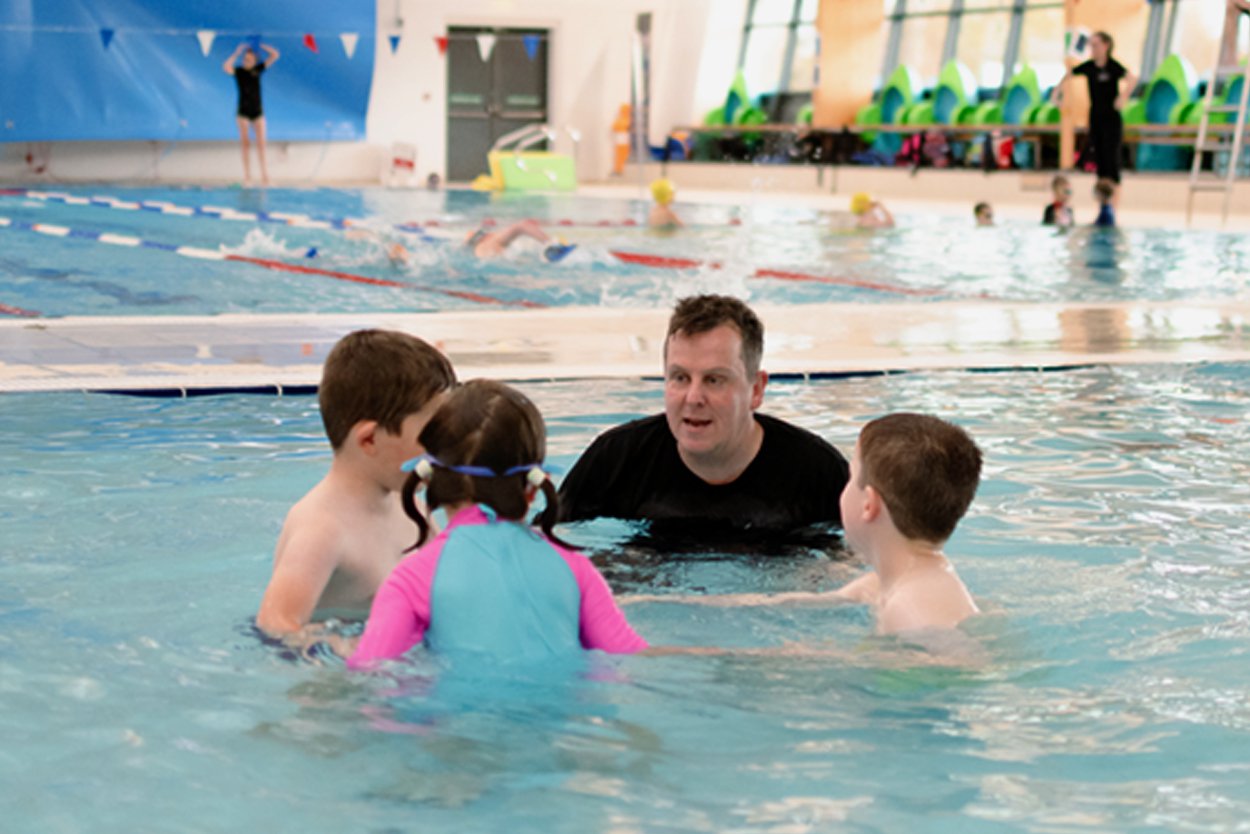 Whether you're a beginner or want to improve your swimming stroke, we run lessons in line with Swim England programmes for all ages and abilities. Learn in a small group or have a one to one swimming lesson based on your individual requirements.
Children's Swimming Lessons
Our swimming lessons for children are fun, and we seek to help your child feel absolutely safe whether it's their first lesson, their first venture into deep water, or their first time in a more challenging class.
It's our aim that your child should progress through our swim programme at their own pace, but more importantly that they develop a love for being in the water that lasts a lifetime.
All our lessons are run by qualified instructors that run in line with the Swim England guidelines. You can learn how to swim in a small group or have a one to one swimming lesson based on individual requirements.
Adult Swimming Lessons
Daunted by swimming lessons? Go on – take the plunge.
If you are an adult learner, fun may not be the adjective that springs to mind when recalling your childhood lessons, but at 1610 we think that you should enjoy your lessons just as much as our younger pupils. We want you to look forward to your time with us, and feel relaxed as you learn to swim or improve your existing swimming strokes. We can teach anyone to swim from scratch or improve your swimming to a level where you are a strong and confident swimmer, swimming for fitness.
Learn in a small group or have a one to one swimming lesson based on your individual requirements.
Parent and Baby/Toddler Sessions
Little dippers (parent and toddler session) - Start classes with your baby from birth!
When you introduce your baby to swimming early, it prepares them to be confident swimmers later in life. Our classes involve you as well as your child and help your little ones feel really secure whilst they get accustomed to being in the water. The specialist instructors running the sessions make sure they are also a lot of fun. We use various recognised and accredited programmes as a basis for these classes.
In addition to being a great introduction to the water, these classes are also a great way for you to bond with your child, and meet other parents with children of a similar age to yours. Many of our parents say our classes are the social highlight of their week.
Booking & Payment
We offer a direct debit scheme for swimming lessons which includes FREE public swimming*. You can also track your child's progress online using our online portal.
We offer small group sizes plus one to one swimming lessons based on individual requirements. Whatever it is, our pools and programmes offer something for everyone to swim, splash, learn and enjoy.
For more information, prices and times please contact your local centre via the links below