How Nordic walking course in Chard inspired not only a fresh way to exercise, but friendship and mental wellbeing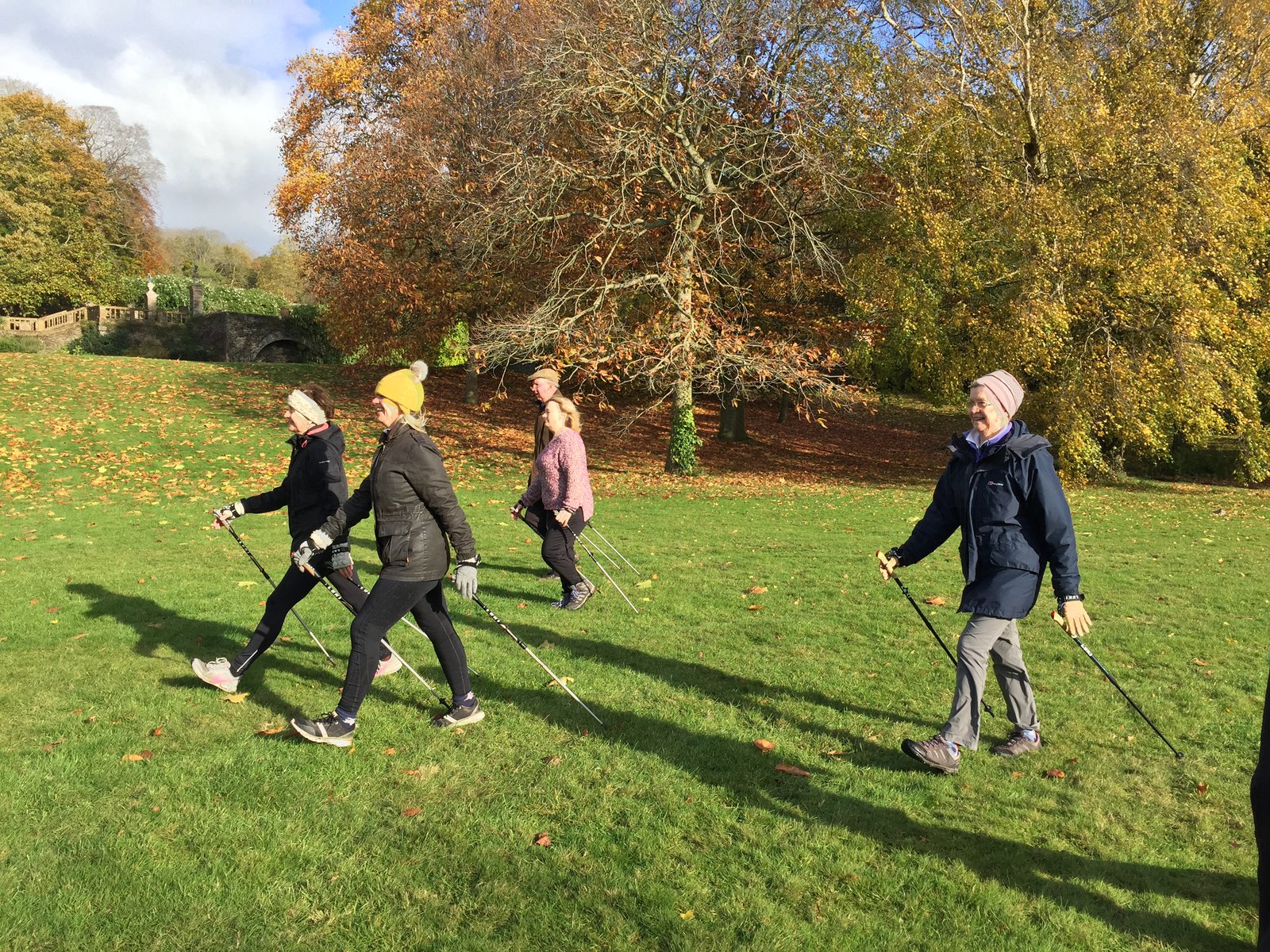 When 1610 Chard fitness centre reopened its doors in April following lockdown, it wanted to offer its members a way of exercising outside where some of its members felt more comfortable and the ability to socialise and meet new people. Something many of its customers had missed because of lockdown. With indoor group exercise still not allowed until mid-May it decided to offer something a little different and started a weekly Nordic walking technique course.
Nordic Walking was developed in 1930's Finland where super fit cross- country skiers discovered that by training with poles in the summer season it helped them gain a huge competitive advantage. They soon discovered that the technique kept their lungs and heart in top condition and improved their upper and lower body strength
By using poles to propel themselves forwards Nordic walking turns a walk into a workout. It can burn up to 46% more calories than by ordinary walking and the technique also engage 90% of the body's muscles. It also increases the overall aerobic effect by 25%.
It is a specific fitness technique where the walker works harder than usual, yet the support given by the poles makes it feel easier. It also supports the body and increases core stability and strength.
The course attracted an all-female group who bonded from the very first session as they were all looking to embrace something new and wanted that social interaction when exercising again.
Clare Arscott who attended the course said 'I joined the 1610 Nordic Walking group during lockdown as I felt it would give me the opportunity to exercise outside, in a group, as well as learn a new skill. I did a little research before the first session and decided that it would be fun as well as beneficial for both my mental and physical well-being.
We had very mixed weather during the course, in fact 2 sessions were in strong winds and driving rain. We all embraced the conditions and had so much fun tackling the flooded fields and muddy woodland slopes of Herne Hill! Personally, I found being out in the appalling weather exhilarating, it made you feel alive and ready to tackle anything.
Susan Scott also attended the course said 'Its so good to find a local Nordic walking class with great instruction in varying local locations. I felt really energised physically and mentally after each session and it was good to meet some new friends!'
The group have now set up their own what's app group to continue enjoying their new found skill of Nordic walking and could even plan routes that involve a quick stop for a drink in a pub.
For more information on 1610 Chard and all the activities it offers visit https://www.1610.org.uk/centres/chard/
Notes for Editors: 1610 is a non-profit making leisure trust which manages 10 leisure facilities across Somerset, Devon and Dorset. 1610 aims to help people live fuller, richer lives through having an active body and an active mind.
For more information about 1610 or if you require further information associated with this press release contact Rebecca Sawtell rsawtell@1610.org.uk or on 07808767468
June 2021