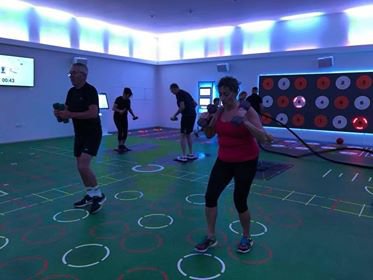 A fusion of 2 popular Prama classes incorporating half an hour of Prama Hiit and half an hour of Prama Conditioning to create a class like no other.
Prama Hiit is high intensity interval training like you have never seen before. You will be challenged every step of the way with short bursts of maximal effort using a range of specialist equipment including battle ropes, sliders and touch pads.
Prama Conditioning is a class with a difference. This hour long workout takes place in one of the UK's first Prama training studios. The studio boasts interactive flooring and walls through LED lighting to create a unique and inspiring fitness experience.
Your instructor will coach you around a variety of stations, while you perform full body exercises to help tone, define and shape your key muscle areas.
The range of exercises delivered and the various equipment incorporated into the sessions including kettlebells, battle ropes, bosu balls means that no workout is ever the same.
Available to both members and pay as you go users.
Book online today or via the 1610 mobile app. If you have never logged in before please contact 03300 58 1610 and we will get you all set up.